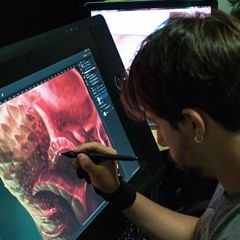 Sergio Cosmai
Illustrator and Concept Artist
Bisceglie, Italy
Summary
I'm Sergio Cosmai, Italian concept artist and illustrator.
I've been involved in various types of projects providing different kind of artworks such as
promo art, character design, environment / props design,
3D game-ready assets / characters / creatures from models up to textures.
I love to explore different art techniques and tools,
from 2D to 3D and apply that knowledge seamlessly in my work.
I'm currently full time freelance.
Clients :
Wizards of the Coast LLC
Paizo Inc.
Schwalb entertainment
De Agostini Publishing
Ovosonico
The World Anvil
TrogloBytes Games
Three Souls Interactive
Invader Studios
Studio Evil
Arkegonos
Spirit Fall
Trinity Team
The Portal
Skills
Concept Art
Concept Design
Illustration
3D Visualization
Software proficiency
Experience
Lead Artist at The Portal

Italy

Concept Artist / Illustrator at Freelance

Lead Artist at Chroniclers Game Sudio

Bari, Italy

Chroniclers Game Studio is an indie Company co-founded by me.

During this period ,lasted about 2 years, we have produced "Mutant Chronicles:Luna City codename 39",

an graphic adventure under the orignial Mutant Chronicles Brand.

Senior Concept Artist at Nightly Build Games Studio

Grosseto, Italy

January 2014 - December 2014

Concept / Production Artist at Dreamslair Entertainment

Monopoli, Italy